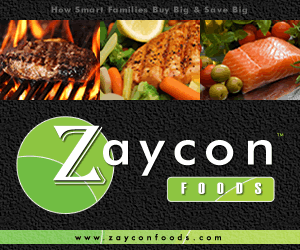 If you haven't heard yet,
Zaycon Foods has started taking orders
for the next round of their awesome fresh, boneless, skinless Chicken Breast Events! So we thought this would be a great time to get together with some of our awesome blogger friends and businesses for a giveaway!
What is up for grabs this time? A $60.00 Account Credit to
Zaycon Foods
OR $60.00 Paypal Cash! Winner's choice! That's right! The Winner can use the account credit (as long as they have an account with
Zaycon Foods
) for any of the premium Meat and Produce Events that Zaycon Foods offers year round, or take the $60 Paypal cash and use it any way they wish! That might be a harder decision than you think!
Zaycon Foods
offers the best prices on the best fresh Chicken, Beef and Produce you can buy. Any fresher and your growing it yourself! If you have yet to sign up for a Zaycon Foods account,
click here!
And if you already have a Zaycon Foods account, make sure to enter the email address you use for it in the Rafflecopter for bonus entries!
How's that for a nice way to start out 2012? Not to shabby at all! How do you get in on this? Just fill out the form below!
This giveaway starts now and ends on January 13th at 12:00 AM EST - that is 9:00 PM on January 12th for us! The winner will be notified via email within 48 hours with instructions on claiming the prize, if the winner does not respond within 48 hours of our notification, another winner will have be chosen.
Good luck everyone!
a Rafflecopter giveaway