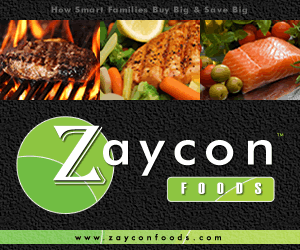 Zaycon Foods
has added Bacon and Fish to the upcoming Ground Beef Events!
Fresh Premium Hickory Smoked Bacon!
The Bacon is high quality, medium-cut hickory smoked sliced bacon (14-18 slices per pound), orders includes two 15-lb cases with two 7.5-lb packages per case (Total order size is 30-lbs.) Easy to share with a friend if you do not think you can use the entire case! Priced at just $2.97 per pound, it's a steal of deal! You won't see this quality anywhere else for less then $6.00 a pound!
True Cod Fillets!
Caught in the icy cold waters of Alaska and flash frozen

,

e

ach fillet is IQF (individually quick frozen) and packaged in a single 20-lb bag inside the case. Sold in 20 pound cases for the low low price of $5.79 per lb.!
Frozen Alaskan Caught Sockeye Salmon Fillets!
Wild caught in the icy cold waters of Alaska and flash frozen, each fillet is approximately 2 lbs. and individually vacuum sealed and quick frozen, ready for the freezer. Sold in 20 lb. cases at the unheard price of $7.49 per pound! Most locations are already sold out, but you can put yourself on the waiting list for next time!
Today (12/3) is the last day to order and pay, don't miss this opportunity to stock up on some great Bacon!
Click here to sign in to your Zaycon Foods account to place your order!
What!?! You don't have a Zaycon Foods account yet? Where have you - oh never mind!
Click here to sign up for your own account and stay in the loop forZaycon Foods awesome savings events!
Signing up is FREE and there is no obligation to buy anything. What you are doing is making sure you get the 411 on all of Zaycon Foods Spectacular Savings events!